The Kanger FIVE6 is the biggest, most unique mod that we've ever reviewed. Surprisingly, the whopping five 18650 batteries that it holds isn't even the craziest feature. That title belongs to the tank and it's adjustable coil engagement. Let's dive right in.
Review: Kanger Five6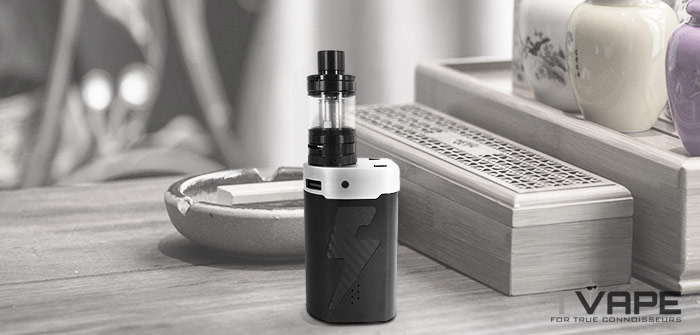 I'm going to go ahead and say that the manufacturing quality of the FIVE6 is outstanding just for its innovativeness alone. Kanger really came out of left field with this, and I like the result a lot. This surprises even me, because I wasn't really digging the other mods out there that have more than two batteries. It felt like overkill, and I didn't like the way they looked all that much.
So why is this different? Why is five batteries better than three or four? For starters, it's really not that heavy. There is a lot of plastic involved with this, but it doesn't feel cheap and this helps keep the weight manageable. Surprisingly, this is actually lighter than many mods that I've tried. I was expecting it to feel like a brick. Don't get me wrong, it's still heavy. But it's manageable.
I also really like that this also serves the purpose of a charging bank. This has an actual USB port for you to plug in your phone or camera. I like this feature a lot because it adds to the versatility. They're very clear that you cannot charge this through that port, but you shouldn't be doing that on other vapes even if it's technically an option.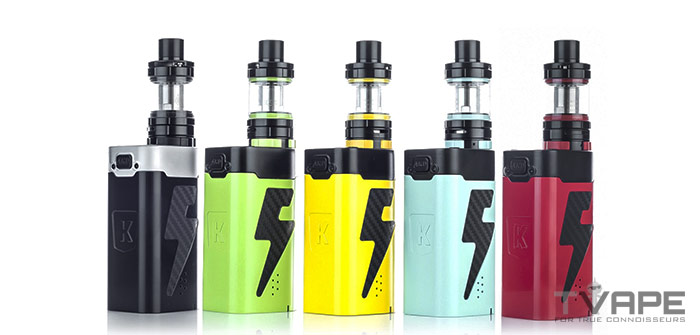 The rest of the actual mod is pretty standard, but the tank is anything but that. To begin to understand it, I think you have to start with the coils themselves. Inside the coil head there are three pairs of coils in parallel, meaning that there are six coils altogether.
The crazy thing is that the coils don't have to run together. Each pair has it's own separate connection when you screw the head into the tank, and the tank as switches on the outside to activate or deactivate individual pairs.
This means that with one tank, you can vape on two, four, or six coils and alternate between different configurations with the flip of a switch. No one else has anything close to this type of functionality available, at least not to my knowledge.
One more thing. They include a color changing glass that you can use for your tank instead of the regular clear Pyrex. Relatively small compared to everything else, but still cool.
Focus On www.ave40.com For More Vape Kits.   
Flavor Quality
The flavor quality is excellent. I really enjoy this tank. I tried it with every combination of coils, and I'm going to share my notes on each here. For starters, just using 2 coils works wonderfully. I thought it may feel underpowered or just not work great, but I was wrong. I got an incredibly smooth vape with amazing flavor, and the cloud size was massive. You can take a pretty long draw with just two though.
When you bump it up to four total by activating two pairs, you can tell it gets warmer immediately. The vape automatically increases the wattage when you activate an extra coil pair, but you can always decrease this manually and the vapor gets cooler again. Even though it was warmer, it was still smooth with good flavor, and the clouds got even bigger.
Adding the last pair bumps the wattage up even further. This was a bit too much for me, and even a short draw delivered absolutely massive clouds. The flavor was still good. If you like vaping at high wattage, you'll enjoy this tank I think.
Power Flexibility
The power flexibility is good. The max wattage is 222W, which may be surprising to people who assumed that 5 batteries meant insane power.
In this case, the extra batteries are there for delivering insane battery life. I like this decision, because I've never felt the need to vape anywhere near the 222W max of this.
While it doesn't have advanced heating modes like temperature control, it gets extra points since the battery bank can be used for charging.
Ease of Use
You'd think all these features would make the FIVE6 hard to use, but it's actually pretty simple. Like I mentioned above, there aren't any heating modes outside of just changing the wattage.So all you really have to do is turn this on and choose how many watts you want to run. When you want to activate or deactivate a coil pair, you just flip a switch.
When you want to fill your tank, you slide the top open and fill it up. The batteries are accessed by sliding the entire exterior case off.
Portability
This is one of the biggest mods on the market, so it obviously is far from being considered portable. But before you completely discount this, you should also know that it's comfortable in the hand.There's also the fact that it will give you the best battery life out of any mod on the market. So if you have a place to carry this other than on your actual body – like a backpack or a purse – this could actually be more portable than anything else in the sense that you won't have to stop and charge it for long periods of time.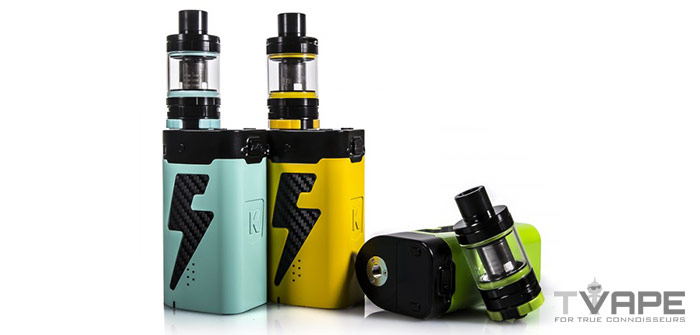 Overall Experience
I'm a big fan of what Kanger did with the FIVE6.
The size may mean that it isn't practical for many people, but there's no denying that it's extremely innovative and delivers excellent performance.
I'm not sure that I would recommend this to anyone looking for their first vape, or anyone who wants one vape to use in all circumstances.
With that being said, I would recommend this to pretty much anyone who has a collection. You know who you are.
This is not just another mod. This is not just a novelty. This is a well-built device that has innovations I've never seen in other devices, and I like it
Now It's Available :
Hot Sale Recommendation: