Innovations in vaping technology can seem slow to come by. One of the most recent ones was the advent of temperature control, but since then it seems like all any manufacturers have been doing is either making their mods smaller or higher powered. That's all changing now, because touch screen mods are finally here. We've got one to review today, the Joyetech CUBOID Pro. It's not the first one to hit the market, but it looks like a very good one, and we're excited to check it out.
Review: CUBOID PRO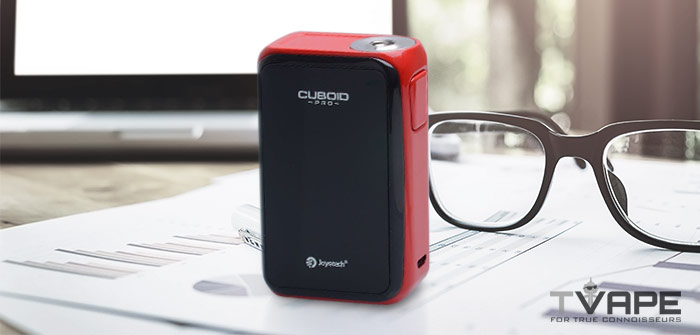 I know there is one thing that everyone wants to know. I won't make you wait. The touchscreen is awesome! I don't just mean that it's awesome to have a touchscreen on a vape though. Joyetech did a seriously incredible job making this vape. The screen is big, bright, and responsive.
I love the interface. Everything you could possible want is easily accessible. There are plus and minus buttons for changing the wattage incrementally, along with a bar that you can drag to quickly make large adjustments. There's a button for toggling between the different heating modes, and a place to press so that you can change what you are adjusting within each mode.
If that all sounds confusing, what I'm trying to say is that the majority of things that you want to do can be achieved without ever leaving the main screen. By the way, everything is easy to press, even if you have fat fingers.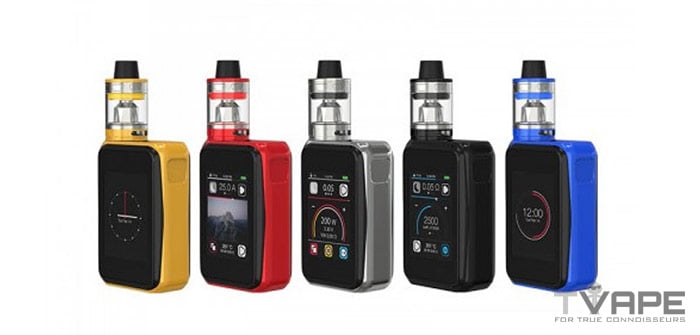 On top of just having a good touchscreen, there are a bunch of cool extra features like screensavers that are real pictures, a step counter, and even a way for you to track your nicotine consumption. It's cool to see vapes expanding on their functionality like this.
There are two buttons that will make this fire. One is a traditional click button, and the other is activated just by touching it. I'm not a huge fan of the touch fire button, but it's there if you like it.
Focus On www.ave40.com For More Vape Kits.
Flavor Quality
This kit includes the ProCore Aries tank, which delivers outstanding flavor and vapor production. There are 2 different coils that are included, with an additional 3 that you can buy separately.
If you get this, you'll notice that they include a card that indicates exactly what each coil is good for. I like this inclusion, and the card's judgements are accurate. In this case, the ProC4 is the one to use if you want a coil that's big on both flavor and vapor.
Both of the included coils are for direct lung vaping, but you can achieve mouth-to-lung vaping if you buy the ProC1-S. If you like blowing huge clouds and vaping at high wattages, check out the 0.2ohm ProC3.
Power Flexibility
The power flexibility of this kit is great, and right on par with other mods coming out lately. It's powered by two 18650's with a maximum wattage output of 200W. There are temperature control modes for nickel, titanium, and stainless steel, with a range of 200-600F for each.
There are also TCR modes. The resistance ranges are 0.05 to 1.5ohm for the temperature control modes and 0.1 to 3.5ohm for variable wattage mode.
Ease of Use
One of the downsides of high-powered mods that pack a ton of functionality has traditionally been the fact that their menus are clunky and annoyingly complicated to navigate.There are some that do it better than others, but at the end of the day most mods still only have three buttons. The touch screen changes everything. Instead of remembering combinations of button clicks to find and change what you want, you just click on it.
This is so much more intuitive, and it makes this mod extremely easy to use. I can't speak highly enough about it.
Portability
I'm actually surprised by how portable this is. I assumed that adding in all the tech to make this touch screen would make it bulkier than other dual 18650 mods, but it really isn't. The size is 131.5x56x30mm. That's just a bit over 5 inches tall, in case you were about to go look up the metric conversion.
To be clear, mini mods and AIOs are still going to be way more portable than this. This just does a better job than I expected at keeping the size to a minimum
Overall Experience
The Joyetech CUBOID Pro is an incredible mod, and the ProCore Aries tank is pretty great as well.
The star of the show is obviously the touch screen. If you were worried that it wouldn't be functional and that it is just a gimmick to sell more vapes, I hope this review convinced you that it's not. The thing works great and makes using the vape much more enjoyable.
I've said it before, but I'm going to repeat myself for emphasis. The screen is big, bright, and incredibly easy to use. I've never used a vape with this many settings that was more intuitive to control.
While this will fit any 25mm tank, the ProCore Aries is worth using. Regardless of how you like to vape, there should be a coil for this that helps you do it. My favorite was the ProC4.
Focus On www.ave40.com For More Latest Vape News.
Now It's Available : Joyetech Cuboid PRO with ProCore Aries Kit
Hot Sale Recommendation:
Vaporesso Aurora Play Zippo Pod Starter Kit
Dovpo Topside Dual Squonk Box Mod