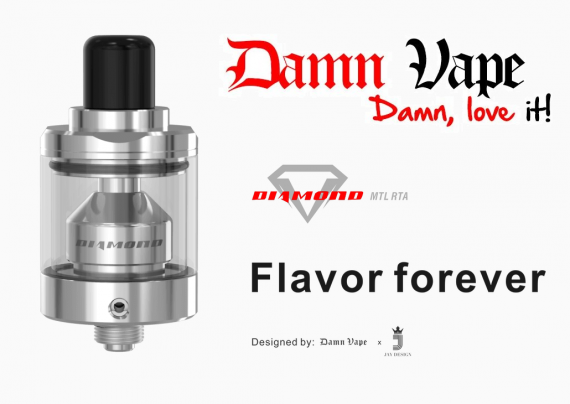 Focus On www.ave40.com For More Vape Tank.
Here comes the Damn Vape Diamond MTL RTA! It comes with a tiny and compact design which you can carry it anywhere according to your preference. With 1.5mm center airflow hitting coil, traveling through compact cone-shape chamber and small chimney, you'll get the outstanding flavor and perfect throat hit.
Besides, there are two post build decks for MTL builds. You can use Flat or Phillips screwdriver to tighten up screws. PEEK insulator around the positive post. 1.5mm airflow hole in the center, and 2 wicking holes on two sides. Thus you can easily finish building. Otherwise, you enable to adjust airflow from the side (you don't have to unscrew the atty to adjust airflow). No airflow-ring, no diffusion, no worries about changing your favorite setting by accident.
What's more, Diamond has a small build deck, so the chamber diameter is small as well. Meanwhile, it features a cone-shaped bell. It has one of the smallest room inside for vaporizing.
In addition, the e-liquid capacity is up to 5.5ml with the extra 3.5ml bubble glass, which absolutely meets your daily use. Portable, Simple, Decent Flavor, get Diamond now and start your amazing MTL vaping journey!